Stone Medicine: Sedona Vortex Blessing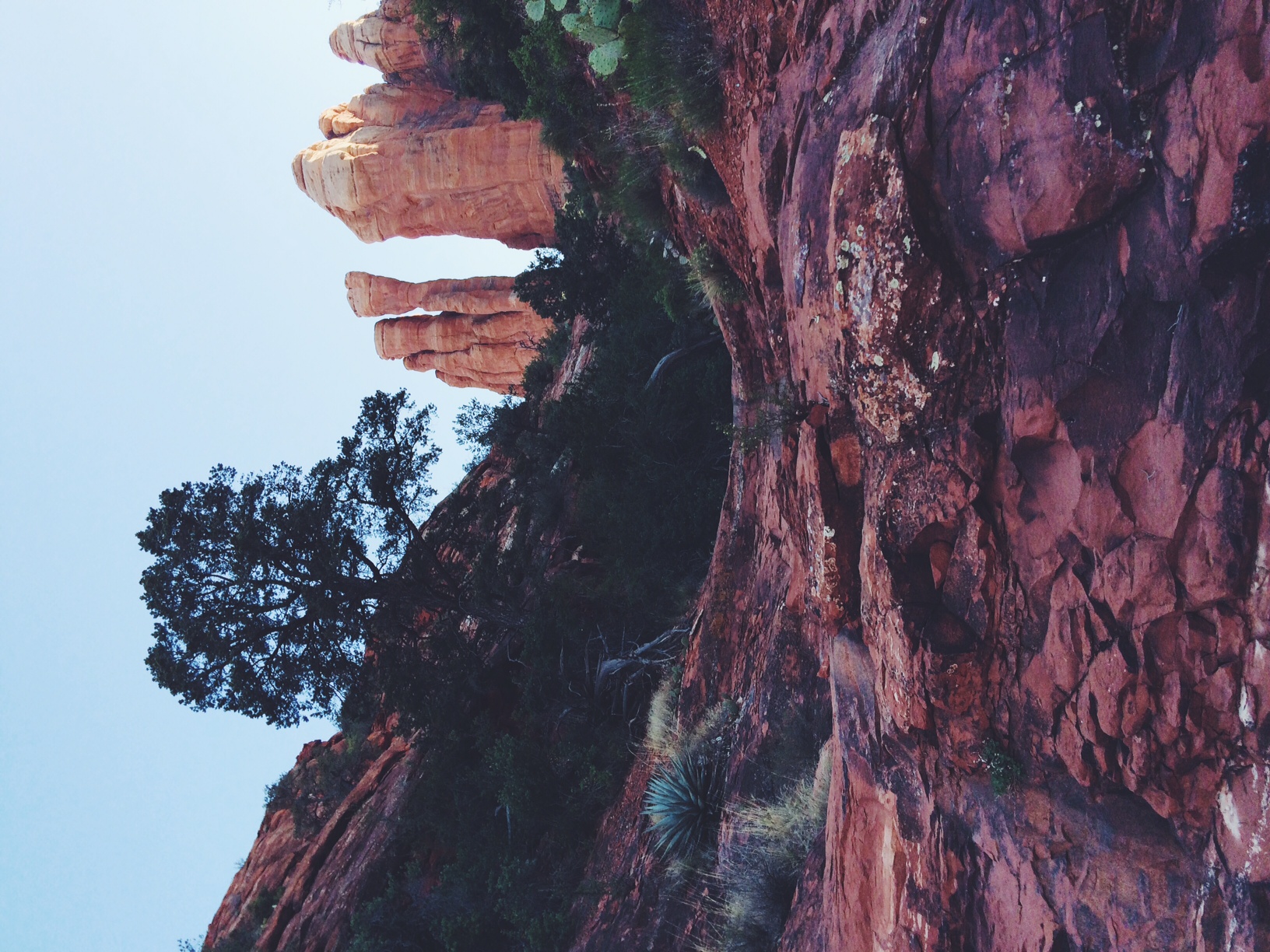 Cathedral Rock is one of the largest vortexes in Sedona. I came there with the intention to finding a secluded and safe place to perform the blessing. We hiked up the mountain and found a trail that was actually a dry creek bed. The ochre rocks were formed in such a way that a staircase was created; I couldn't help but think of it as a staircase to heaven.
I felt drawn to a shaded spot overlooking the whole Sedona Valley. You could see Bell Rock and Courthouse Butte, another vortex spot with unbelievable rock towers against the turquoise sky. The view took my breath away. The dry creek bed we were on cut into Cathedral Rock, creating a wind tunnel – the wind was so strong and powerful, I can understand how the rocks were formed as they are. I was afraid all my little stones would be blown away! However during the whole ceremony the wind was so still and gentle, it became a cleansing playful breeze as if giving me a moment of peace, kissing each stone as a sacred blessing.
I laid my blanket down and placed large Sedona stones on each corner to hold it down. I called these my stone keepers, holding the altar in place. I then placed my large Smoky Quartz generator in the center, the center stone, channeling mother earth and father sky. At each corner I placed an item for each element; to the east, signing bells; to the south, sweet grass; to the west, tea; to the north, my feather smudge fan.
Surrounding the center stone I placed the Tiger's eyes, Bull's eye, Hawk's eye, and quartz points. I finished the altar with placing the other stones around intuitively. I then smudged the entire altar being mindful of the sage embers. I asked Great Spirit to cleanse and bless the stones and the future keepers. I thanked the vortex for its revitalizing energy and to add to this blessing. I went to each corner and called in the elements, Earth, air, Fire and Water. I recited this beautiful invocation from my tarot deck, Medicine Woman:
"Welcome, energies of Earth, Air, Fire, and Water.
Let us create a life of beauty, reverence, and wonder.
With each season, let us rejoice.
Through every phase of Sun and Moon,
Let us be in harmony.
In every direction shall we offer our love."
I anointed each stone with oil and chanted Reiki to them and when I was ready, I drew a tarot card asking what message the crystals/stones have for their future stewards. And I poured an offering of the tea for Mother Earth and her inhabitants. The ceremony ended with sweet grass burning and thanking Great Spirit, Cathedral rock and the elements for witnessing this ceremony.
This ceremony was what my spirit needed. I felt so revitalized afterward, and it was an honor to cleanse these crystals and bless them before they are sent out to their future bearers. If you feel called to order this set you can order them here.
And these are the other crystals I cleansed on the mountain (excluding the purple lepidolite). Click the stone you feel drawn to the most....